HelpAge India Virtual Townhall event
On Dec 02, 2022 the AFHI and HelpAge India senior leadership team interacted with donors and supporters in the United States and fielded questions about HelpAge India's many program interventions and how donations from the United States helps elders in need.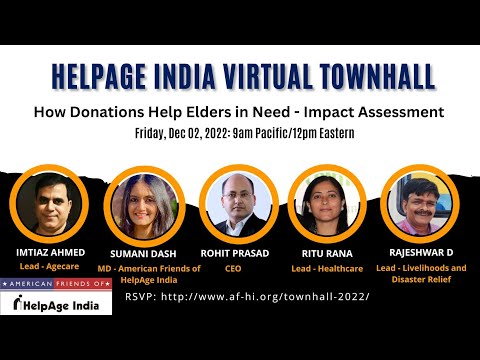 Watch our video
To join future events, please sign up here
Our Vision
A world in which elders are cared for and included within the mainstream; where they have access to nutrition, quality healthcare, livelihood support and economic stability.
Our Mission
To advance the cause and care of the disadvantaged and vulnerable elderly so that they may lead healthy, active and dignified lives.
138 MILLION
ELDERLY IN
INDIA
96 MILLION
ELDERLY
WORK JUST TO
SURVIVE
56 MILLION
LIVE
BELOW THE
POVERTY LINE
Abandoned elderly rescued
Linked to government schemes.